So I've been schralping the gnar on some mad coulies lately out on the slopes.
Schralping the gnar: that's "bro" lingo for "having a great time skiing in really neat places."  And speaking of lingo, I was reading a recent issue of Powder Magazine and it had an insightful article about those who are commonly known as "beaters."   A beater is bro lingo (or ladybro lingo, for that matter) for a gaper.  And a "gaper" is bro or ladybro lingo for, a tool….. a ski tourist… And a beater or a gaper is typically referred to as such by a hotshit skier with a phat ego.   Exhibit A: group of spring break beaters, likely from the mid-West…
2014 Gaper Day at _________
(insert resort name)

_________!!

The article briefly describes a beater as someone with, "the ridiculous spaceman outfit, the giant clomping boots, the cluster of layers and packs and goggles, falling on their ass in an icy parking lot."  The article went on to describe how a beater is certainly different things to different people.

Frickin beater…
The author describes his own criteria of a beater as anyone "holding a camera pointing at themselves," (been there, done that! ~Editor)  "wearing a full-face helmet," (been there, done that! ~Editor) "or sporting an in-bounds hydration device."  (been there, done that! ~Editor)  But then the author tells a story of a group of incredibly strong skiers in Chamonix a while back, skiing off an incredibly difficult glacier on "variable" snow.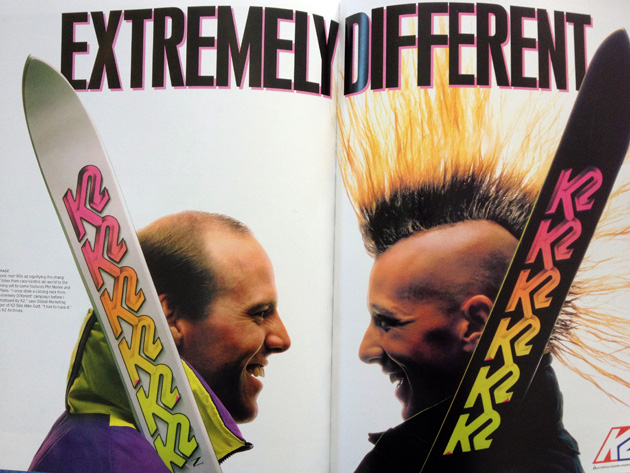 It read, "Halfway down, a glance over my shoulder reveals a little dot far behind us, a skier just pulling on to the glacier from the Grand Roc route…I look again a few minutes later and he has gained an extraordinary amount of ground on us, a party of excellent skiers on the best modern equipment, hauling ass on variable snow.  Soon we hit the end…skidding through the bumps and blue ice with all the skill of Longtime Locals Who Sometimes Get Free Goggles."
"I stop, and before I can even reach down to unbuckle my boots, the mysterious follower pulls up and is revealed not to be some French pro, but an elderly man in a tattered one-piece, on snowler blades, with a large backpack, and a lit cigarette dangling from his lips….he just sidestepped up and burned us  off like a bunch of beaters."
The point here?
The point is that at that moment when those hot shit skiers were schralping the gnar, they were both witnessing the gaper and existing as the gapees.  The point of the article was that the gaper or the gapee entirely depends on the situation.  At any given moment, you yourself, the hottest hotshit to ever walk the Earth could at any moment become the gapee…
Frickin Bieber gaper…
The point was to embrace your inner gapedom.  We are all gapers, some more than others…
(TwoWheeledWorld fotofile)
…………………………………………………..
On the flipside, The Mrs. is in the market for a totally schweet new schralper…
And as such, we're heading down to Sedona, AZ  for a week to do demo some schweet schralp-worthy rides.  We've heard the hype about Sedona, and we're excited to see the newest mountain bike mecca for ourselves.  Being that it'll be February, I think the warm Arizona air will be a welcome respite…
We'll be sure to bring the sunscreen…